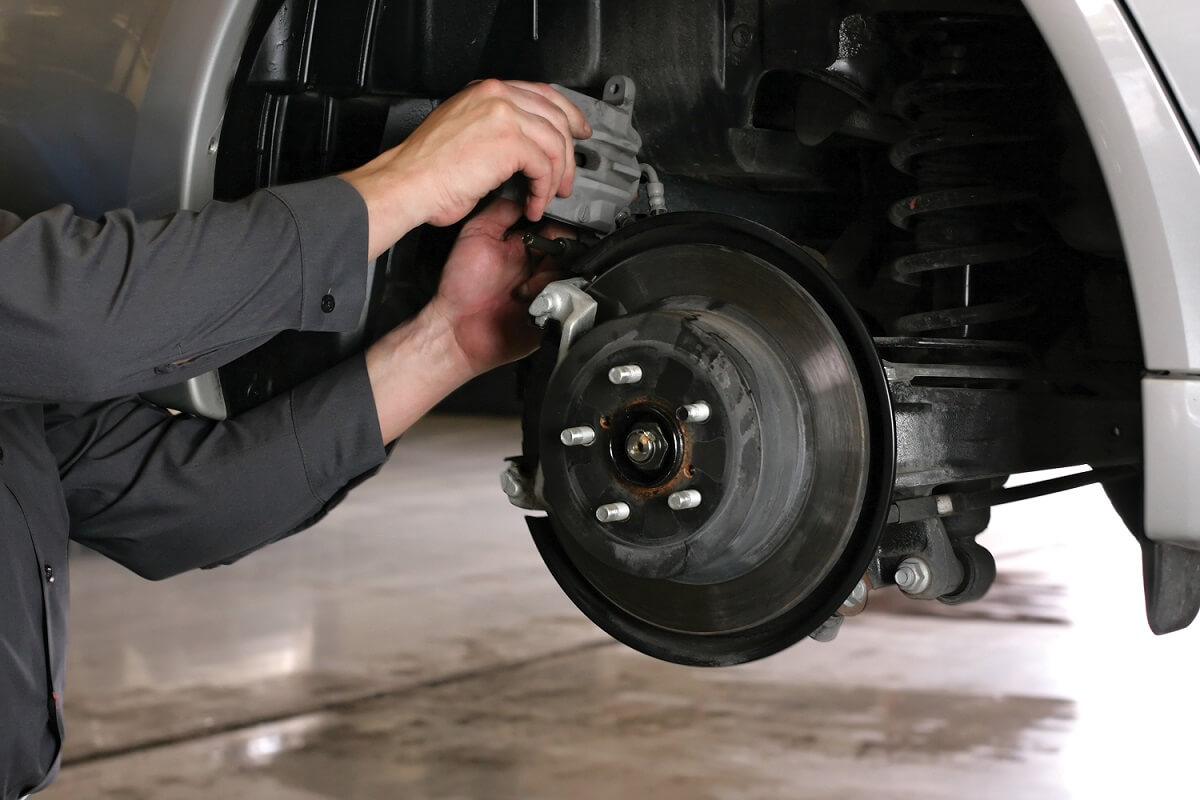 Proudly serving drivers near Mount Vernon, Washington for years, Dwayne Lane's Skagit Subaru is a leading Subaru dealership with a comprehensive selection of Subaru services, including lightning-fast Subaru brake service. While brakes are one of the most important components in our vehicles, it's also something that can too easily be taken for granted. While some squeaky, not-so-maintained brakes may be sufficient when you're driving a few miles through the neighborhood, you don't want to have to rely on subpar braking abilities when someone cuts you off on your way to work, or you encounter a rogue deer on highway 20 who thinks he owns the road. Proactive brake service will also help to save you money. Without routine service, your brake pads will become worn down, potentially damaging your brake rotors, brake calipers, and costing you big time in auto repairs. Generally, Subaru vehicles require brake pad and brake lining replacements every 25,000-30,000 miles, depending on your driving style and road conditions. The Subaru service experts at Dwayne Lane's Skagit Subaru will help you keep track of your brake pad thickness through regular brake inspections when you stop by for oil changes and other auto services. Of course, our mechanics can also take care of any necessary brake service when the time comes. With our certified Subaru mechanics and Subaru genuine brake parts, you can count on us to provide you with the top-of-the-line Subaru brake service you deserve!
Certified Subaru Service Center
As a certified Subaru dealer, Dwayne Lane's Skagit Subaru strives to exceed your expectations in every way. From the extensive expertise of our factory-trained, Subaru-certified mechanics, to the quality of our OEM Subaru parts, including Subaru genuine brake parts, brake pads, brake shoes, brake drums, and more, you can count on Subaru Lane's Skagit Subaru to provide you with an auto service experience unlike any you've had before. If your brakes have been squeaking or you think you may be overdue for a brake inspection, give us a call today or visit our Subaru service center near Mount Vernon, WA to speak with a Subaru service expert!
Schedule Auto Service
Dwayne Lane's Skagit Subaru has you covered in all departments of auto service. In addition to our Subaru brake service, we offer oil changes, transmission repairs, tire rotations, engine tune-ups, and much more. Schedule Subaru service today at our Subaru service center just outside of Mount Vernon, WA, by calling our service line or using our online scheduling tool. If you have any questions about our auto service, OEM Subaru parts, or something else, just give us a ring and a Dwayne Lane's Skagit Subaru representative will gladly assist you!
Hours
Dealership Hours
Mon - Sat
9:00am - 7:00pm
Sunday
10:00am - 6:00pm
Service Center
Mon - Fri
7:30am - 5:30pm
Saturday
Closed
Sunday
Closed
Express Service Hours
Mon - Fri
7:30am - 5:30pm
Saturday
8:30am - 4:30pm
Sunday
Closed