The 2021 Subaru Love Promise Community Commitment Award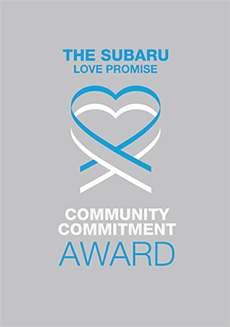 We've been nationally recognized for our dedication to our community and the Subaru Love Promise.
We're honored to receive the 2021 Subaru Love Promise Community Commitment Award. This award nationally recognizes Subaru retailers who are making the world a better place while demonstrating an outstanding commitment to supporting passions and causes in local communities. These efforts are focused in important areas such as the environment, community, health, education, and pets.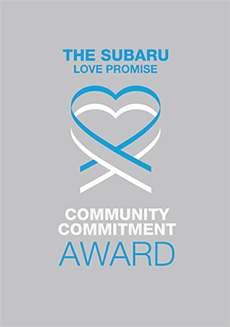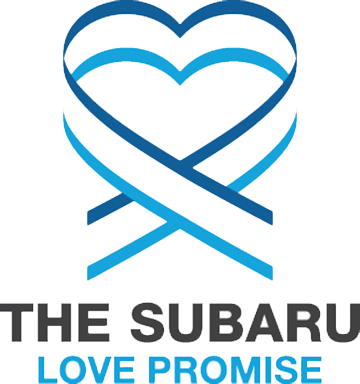 What is the Subaru Love Promise?
Subaru and our retailers believe in making the world a better place and the Subaru Love Promise is our vision of respecting all people. This is our commitment to show love and respect to our customers and to work to make a positive impact in the world.
How is Dwayne Lane's Skagit Subaru dedicated locally to the Love Promise?
Our Love Promise can be seen in various partnerships with local charities and non-profits. We're grateful for the opportunity, not only to be a part of our community, but to serve it as well. Our slogan is We'll Take Care of You! and it's not just a catchy tagline but a way of life for our employees on how we treat our customers and support our community.
Humane Society of Skagit Valley, The NOAH Center Animal Adoption Clinic
Leave No Trace Center for Outdoor Ethics
Burlington Edison School District
Boys and Girls Club of Skagit County, Skagit Valley Family YMCA, Community Action of Skagit County, Skagit Domestic Violence and Sexual Assault Services, Friendship House, Youthnet
The Cancer Assistance Fund, Skagit Valley Hospital Foundation, Hospice of the NW
Love Promise Stories from Dwayne Lane's Skagit Subaru
Subaru and Dwayne Lane's Skagit Subaru believe in making a positive impact on the communities in which we live and work. We uphold that belief through our Love Promise Community Commitment. Every month, we select inspiring stories from customers and partners from around our area who strive to support our collective commitment and feature them here
Skagit Subaru Loves Friendship House - Jen H
With the incredible support of Dwayne Lanes Skagit Subaru, Skagit Friendship House was able to put together an awesome livestream venue of our annual benefit auction, fashion show fundraiser. Last year, we were not able to meet in person and this year, we learned at nearly the last moment that the same would ring true. Eager to find a way to present our auction and fashion show to the community we were able to team up with a production studio and made the entire program go live stream...the bidding platform and studio costs were higher than the usual night out in Skagit for a gala event and the support from our friends at Skagit Subaru and the Dwayne Lanes team, helped make it all come together. Recent circumstances have given us opportunities to learn new ways to achieve goals together as a community. One thing we know for sure at the Skagit Friendship House, that doesn't seem to change in a world of constant newness, is that Dwayne Lanes is all in for it's communities. Thank you for helping us make this show and fundraiser possible in 2021. We were able to raise over $27,000 through the auction and sponsorship support. The impact of your generosity is seen daily in the community! The Friendship House
---
Dwayne Lane Subaru Partnership = Mission Success! - Ranger K
The Mission Statement of our all-volunteer 501-c3, Rick Epting Foundation for the Arts (REFA), is "Enhancing the quality of life in Skagit County and surrounding areas through the arts." When our team sought to do just that by bringing the first-ever Art CARnival to Skagit County, we turned to Dwayne Lane Subaru (DLS) to inquire about using their location to hold the event. Although the company's marketing and public relations director, Sheila Countryman-Bean, hadn't ever heard of art cars before our call, she professionally investigated the info and photos we sent her, in addition to confirming the professionalism and past projects REFA had undertaken. Once she knew the details, Sheila was, as she said, "All in!" DLS went so far as to build their own Subaru art car, Subie Love, so it could be the 'host art car' for our event. Over its 15 years of existence, REFA has partnered with a variety of local businesses in our mission to increase the accessibility and amount of art in our area. However, none have surpassed the professionalism and ease of working with the folks at Dwayne Lane Subaru. In these times of corporate takeovers and cookie cutter businesses, it was great to find an organization with hometown values and a willingness to give back to the local community. I have no doubt that those who purchase their vehicles from DLS will encounter the exact same type of quality customer care and support for what is one of the premier vehicle brands in America, Subaru.
---
Subaru Pet Photos - Cindy T
Dwayne Lane's put on such a fun photo shoot for the Subaru Loves Pets! I got to take my Golden Gryff to the store and get professional photos taken! Donations went to NOAH, which has always been a great animal protection organization within our community. The photo's turned out amazing and Gryff got his very own Subaru Toy, which he proceeded to take with him everywhere. Amazing Staff. Fun Event. Great Cause. Fantastic Results!
---
Dwayne Lane's Skagit Subaru First Art Carnival - Emilyn P
Skagit County, WA - Dwayne Lane's Skagit Subaru recently hosted an Art CARnival at its Burlington dealership, to benefit the Rick Epting Foundation for the Arts (REFA). Proceeds from the event will be used to support teachers, artists, musicians, arts-based programs and organizations with grants to enhance the quality of life in Skagit Valley and surrounding areas through the arts. The event featured 21 decorated art cars including Dwayne Lane's 'Subie Love' themed car, plus many family friendly activities showcasing Subaru's Love Promise pledge. Subaru is committed to making the world a better place and focuses on Subaru Loves the Earth, Loves Pets, Loves to Care, Loves Learning and Loves to Help. Hands on activities included planting flower seeds, painting wood art cars, coloring bookmarks and more. The Art CARnival drew many families from the surrounding community and the event was a first experience for many to view such an ART CAR Extravaganza. According to Dwayne Lane's Auto Family Marketing and Public Relations Director Sheila Countryman-Bean the event was a huge success. "Dwayne Lane's Skagit Subaru was excited to host the first Art Carnival in Skagit County to benefit the Rick Epting Foundation for the Arts. It was great seeing all the families enjoying the different art cars and the Subaru Love Promise activities", she said. The dealership hopes to make the Art CARnival an annual event.
---
Dwayne Lane's Subaru helps local homeless families - Brandon F
Dwayne Lane's Subaru is committed to local non profits in Skagit County. This year they gave a whopping $14,385 to Family Promise of Skagit Valley; a non-profit dedicated to helping homeless families regain their independence through a combination of shelter and wrap around case management services. Thank you to Dwayne Lane's for all they do for us and many, many others in the community!
---
Foster Families Feel the Love! - Kaelen G
Secret Harbor was honored to be chosen as one of 2020's Share the Love recipients. In a year shadowed by worldwide turmoil, taking care of those closes to home was extremely important. Dwayne Lane's Skagit Subaru answered that call and then some, by selecting not one but two recipients this past year and we are so thankful to have been included. Through their hard work and dedication, we were presented with a fabulously large check for over $10,000. This money will go directly to our three programs supporting foster youth and families in the Puget Sound. Next year celebrates Secret Harbor's 75th year of service to this community and we are so lucky to have support for community partnerships like this one with Dwayne Lane Subaru. While the world upended around us, we were dedicated to providing services to our youth and families no matter what we endured. We encountered challenges we had never anticipated and with support like this, we were successful in leaping over each hurdle that came our way. Secret Harbor's three programs: Residential Group Care, Therapeutic Foster Care and In-Home Support will all benefit through this generous donation. Thank you so much for supporting us, our programs and the youth families we serve.
---
Supporting Holidays for Children in Foster Care - Holland W
Thanks to the ongoing support of Dwayne Lane's Skagit Subaru and their employees, Youthnet has been able to provide Thanksgiving turkeys and groceries to foster families for the past three years. This year our team split up, put on our masks, and distributed turkeys to our families' doorsteps. Many of our services are currently virtual due to COVID-19 restrictions, and this was a much-appreciated opportunity to connect with our families in person from a safe distance. Dwayne Lane's Skagit Subaru has also helped Youthnet make the holidays extra special for children in foster care by providing Christmas gifts for the past three years. As a non-profit agency, our partners and donors strengthen Youthnet's ability to support children, youth, and families in our community.
---
Customer and Employee Tony Micik's Legacy - Sheila C
This story is about a customer and employee at Dwayne Lane's Skagit Subaru, Tony Micik. Tony was recently diagnosed with lung cancer and left his job to pursue medical treatment and spend time with his family. Unfortunately Tony lost his battle with the disease on Nov. 27th. He is missed by his customers and co-workers and will not soon be forgotten. Tony loved all things Subaru and his family owns two. He had been a fixture in Dwayne Lane's Skagit Subaru's service drive for many years and his commitment of taking care of his customers was always his number one priority. His smile and sunny personality were contagious and when not assisting customers he could be found watering plants in front of the dealership. Dwayne Lane's Skagit Subaru employees wanted to recognize Tony's dedication to his work and planted a garden in his honor. The garden will be changed out seasonally and has a plaque "Welcome To Tony's Garden" installed in it. When Tony learned of the garden he was very grateful and said in all his years in the automotive business he hadn't worked for anyone better than Dwayne Lane's. "They really do take care of you and care about you as a person, not just an employee," he commented. Tony was awarded posthumously, the Spirit of Dwayne Lane Award, which is nominated by employees for someone that shared the qualities of founder Dwayne Lane. The award is a crystal boot in honor of Dwayne Lane's love of horses and has been given to Tony's family. The criteria of the award are: The Spirit of Dwayne Lane Award will be given annually to an employee that exemplifies the qualities that made Dwayne Lane successful in the auto industry and a respected community member. 1. Work Ethics-demonstrates a dedication to job and company by giving 110% every day while treating customers fairly and with respect. 2. Customer Service-embodies "We'll Take Care of You!" by providing excellent, positive experiences for all customers, co-workers and Dwayne Lane's guests. 3. Attitude-positive outlook, motivates through actions. 4. Performance-be a top performer in job responsibility 5. Professionalism-displays professional behavior to customers and other employees and mentors others to reach full potential. It's not everyday you meet someone with the qualities that Tony possessed and his passion for customer care. He will continue to be an inspiration for many and his memory lives on in Tony's Garden.
---
The NOAH Center benefits from Subaru loves pets - Jennifer H
This year Dwayne Lane Subaru has partnered with The NOAH center to donate $100 for each pet adopted in October, that donation will help us feed and care for the animals through the end of 2020. Dwayne lane is also collecting food , toys and supplies for the animals to enjoy while here at The NOAH Center. Partnerships like these help to keep The NOAH Center going and able to bring in more animals from overcrowded shelters that would have been euthanized. These donation mean so much to us this year especially with donations down due to the pandemic. Thanks Subaru and Dwayne Lane for your generosity!
---
Mom Credits Subaru for Saving Daughter's Life - Debbie W
I received the call no parent ever wants or expects, my daughter had been in a serious accident. I rushed to the scene and found my daughter with only minor injuries suffered in the horrific crash. She had been driving my parent's 2018 Subaru Outback and I believe it saved her life. I'd always heard how safe Subarus were and my daughter is a living testament to those claims. The Outback was totaled and my parents returned to Dwayne Lane's Skagit Subaru to replace it with another new Outback. The staff was compassionate and made the process so easy. They were concerned for my daughter's recovery and my entire family is grateful for the customer service the dealership provided. Thank you Subaru for providing safe vehicles and to Dwayne Lane's Skagit Subaru for caring about your customers! Debbie Wolfe, Arlington, WA
---