The 2021 Subaru Love Promise Community Commitment Award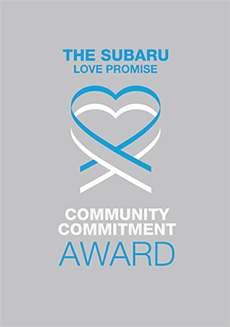 We've been nationally recognized for our dedication to our community and the Subaru Love Promise.
We're honored to receive the 2021 Subaru Love Promise Community Commitment Award. This award nationally recognizes Subaru retailers who are making the world a better place while demonstrating an outstanding commitment to supporting passions and causes in local communities. These efforts are focused in important areas such as the environment, community, health, education, and pets.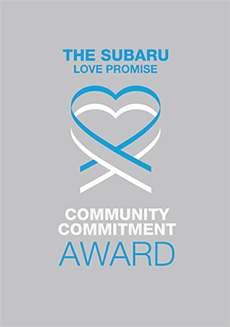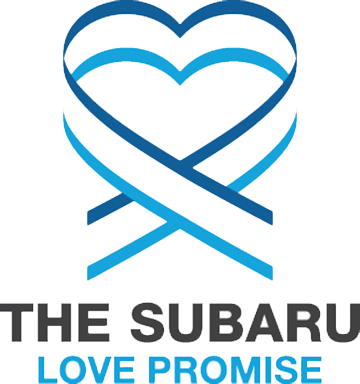 What is the Subaru Love Promise?
Subaru and our retailers believe in making the world a better place and the Subaru Love Promise is our vision of respecting all people. This is our commitment to show love and respect to our customers and to work to make a positive impact in the world.
How is Dwayne Lane's Skagit Subaru dedicated locally to the Love Promise?
Our Love Promise can be seen in various partnerships with local charities and non-profits. We're grateful for the opportunity, not only to be a part of our community, but to serve it as well. Our slogan is We'll Take Care of You! and it's not just a catchy tagline but a way of life for our employees on how we treat our customers and support our community.
Humane Society of Skagit Valley, The NOAH Center Animal Adoption Clinic
Leave No Trace Center for Outdoor Ethics
Burlington Edison School District
Boys and Girls Club of Skagit County, Skagit Valley Family YMCA, Community Action of Skagit County, Skagit Domestic Violence and Sexual Assault Services, Friendship House, Youthnet
The Cancer Assistance Fund, Skagit Valley Hospital Foundation, Hospice of the NW
Love Promise Stories from Dwayne Lane's Skagit Subaru
Subaru and Dwayne Lane's Skagit Subaru believe in making a positive impact on the communities in which we live and work. We uphold that belief through our Love Promise Community Commitment. Every month, we select inspiring stories from customers and partners from around our area who strive to support our collective commitment and feature them here
Dwayne Lane's Skagit Subaru First Art Carnival - Emilyn P
Skagit County, WA - Dwayne Lane's Skagit Subaru recently hosted an Art CARnival at its Burlington dealership, to benefit the Rick Epting Foundation for the Arts (REFA). Proceeds from the event will be used to support teachers, artists, musicians, arts-based programs and organizations with grants to enhance the quality of life in Skagit Valley and surrounding areas through the arts. The event featured 21 decorated art cars including Dwayne Lane's 'Subie Love' themed car, plus many family friendly activities showcasing Subaru's Love Promise pledge. Subaru is committed to making the world a better place and focuses on Subaru Loves the Earth, Loves Pets, Loves to Care, Loves Learning and Loves to Help. Hands on activities included planting flower seeds, painting wood art cars, coloring bookmarks and more. The Art CARnival drew many families from the surrounding community and the event was a first experience for many to view such an ART CAR Extravaganza. According to Dwayne Lane's Auto Family Marketing and Public Relations Director Sheila Countryman-Bean the event was a huge success. "Dwayne Lane's Skagit Subaru was excited to host the first Art Carnival in Skagit County to benefit the Rick Epting Foundation for the Arts. It was great seeing all the families enjoying the different art cars and the Subaru Love Promise activities", she said. The dealership hopes to make the Art CARnival an annual event.
---
Dwayne Lane's Subaru helps local homeless families - Brandon F
Dwayne Lane's Subaru is committed to local non profits in Skagit County. This year they gave a whopping $14,385 to Family Promise of Skagit Valley; a non-profit dedicated to helping homeless families regain their independence through a combination of shelter and wrap around case management services. Thank you to Dwayne Lane's for all they do for us and many, many others in the community!
---
Foster Families Feel the Love! - Kaelen G
Secret Harbor was honored to be chosen as one of 2020's Share the Love recipients. In a year shadowed by worldwide turmoil, taking care of those closes to home was extremely important. Dwayne Lane's Skagit Subaru answered that call and then some, by selecting not one but two recipients this past year and we are so thankful to have been included. Through their hard work and dedication, we were presented with a fabulously large check for over $10,000. This money will go directly to our three programs supporting foster youth and families in the Puget Sound. Next year celebrates Secret Harbor's 75th year of service to this community and we are so lucky to have support for community partnerships like this one with Dwayne Lane Subaru. While the world upended around us, we were dedicated to providing services to our youth and families no matter what we endured. We encountered challenges we had never anticipated and with support like this, we were successful in leaping over each hurdle that came our way. Secret Harbor's three programs: Residential Group Care, Therapeutic Foster Care and In-Home Support will all benefit through this generous donation. Thank you so much for supporting us, our programs and the youth families we serve.
---
Supporting Holidays for Children in Foster Care - Holland W
Thanks to the ongoing support of Dwayne Lane's Skagit Subaru and their employees, Youthnet has been able to provide Thanksgiving turkeys and groceries to foster families for the past three years. This year our team split up, put on our masks, and distributed turkeys to our families' doorsteps. Many of our services are currently virtual due to COVID-19 restrictions, and this was a much-appreciated opportunity to connect with our families in person from a safe distance. Dwayne Lane's Skagit Subaru has also helped Youthnet make the holidays extra special for children in foster care by providing Christmas gifts for the past three years. As a non-profit agency, our partners and donors strengthen Youthnet's ability to support children, youth, and families in our community.
---
Customer and Employee Tony Micik's Legacy - Sheila C
This story is about a customer and employee at Dwayne Lane's Skagit Subaru, Tony Micik. Tony was recently diagnosed with lung cancer and left his job to pursue medical treatment and spend time with his family. Unfortunately Tony lost his battle with the disease on Nov. 27th. He is missed by his customers and co-workers and will not soon be forgotten. Tony loved all things Subaru and his family owns two. He had been a fixture in Dwayne Lane's Skagit Subaru's service drive for many years and his commitment of taking care of his customers was always his number one priority. His smile and sunny personality were contagious and when not assisting customers he could be found watering plants in front of the dealership. Dwayne Lane's Skagit Subaru employees wanted to recognize Tony's dedication to his work and planted a garden in his honor. The garden will be changed out seasonally and has a plaque "Welcome To Tony's Garden" installed in it. When Tony learned of the garden he was very grateful and said in all his years in the automotive business he hadn't worked for anyone better than Dwayne Lane's. "They really do take care of you and care about you as a person, not just an employee," he commented. Tony was awarded posthumously, the Spirit of Dwayne Lane Award, which is nominated by employees for someone that shared the qualities of founder Dwayne Lane. The award is a crystal boot in honor of Dwayne Lane's love of horses and has been given to Tony's family. The criteria of the award are: The Spirit of Dwayne Lane Award will be given annually to an employee that exemplifies the qualities that made Dwayne Lane successful in the auto industry and a respected community member. 1. Work Ethics-demonstrates a dedication to job and company by giving 110% every day while treating customers fairly and with respect. 2. Customer Service-embodies "We'll Take Care of You!" by providing excellent, positive experiences for all customers, co-workers and Dwayne Lane's guests. 3. Attitude-positive outlook, motivates through actions. 4. Performance-be a top performer in job responsibility 5. Professionalism-displays professional behavior to customers and other employees and mentors others to reach full potential. It's not everyday you meet someone with the qualities that Tony possessed and his passion for customer care. He will continue to be an inspiration for many and his memory lives on in Tony's Garden.
---
The NOAH Center benefits from Subaru loves pets - Jennifer H
This year Dwayne Lane Subaru has partnered with The NOAH center to donate $100 for each pet adopted in October, that donation will help us feed and care for the animals through the end of 2020. Dwayne lane is also collecting food , toys and supplies for the animals to enjoy while here at The NOAH Center. Partnerships like these help to keep The NOAH Center going and able to bring in more animals from overcrowded shelters that would have been euthanized. These donation mean so much to us this year especially with donations down due to the pandemic. Thanks Subaru and Dwayne Lane for your generosity!
---
Mom Credits Subaru for Saving Daughter's Life - Debbie W
I received the call no parent ever wants or expects, my daughter had been in a serious accident. I rushed to the scene and found my daughter with only minor injuries suffered in the horrific crash. She had been driving my parent's 2018 Subaru Outback and I believe it saved her life. I'd always heard how safe Subarus were and my daughter is a living testament to those claims. The Outback was totaled and my parents returned to Dwayne Lane's Skagit Subaru to replace it with another new Outback. The staff was compassionate and made the process so easy. They were concerned for my daughter's recovery and my entire family is grateful for the customer service the dealership provided. Thank you Subaru for providing safe vehicles and to Dwayne Lane's Skagit Subaru for caring about your customers! Debbie Wolfe, Arlington, WA
---
Dwayne Lane's shares the love with our Clubs! - Ian F
The Boys & Girls Clubs of Skagit County has partnered with Dwayne Lane's and the team at Skagit Subaru for many years. One of our first corporate partners and one of our most engaged, the Dwayne Lane's team has continually stood as an example of care, commitment, and community support. Supporting more than 5000 youth served through the Skagit Clubs, the Dwayne Lane's team isn't just made up of Club parents, Club supporters, and Club advocates– the Dwayne Lane's team has provided the opportunity for our kids to visit their dealerships, see the work first-hand. This supports not just keeping the Clubs open– but more importantly, this supports our initiatives to help our kids thrive, and to build a great future. The team at Dwayne Lane's has helped mentor and helped provide inspiration. We are proud to partner with the Dwayne Lane's Skagit Subaru team. They truly have shared the love! Thank you to Tom, Bart, Sheila, and everyone else!
---
Subaru Keeps Sharing the Love! - Amanda C
Skagit DVSAS, Skagit Subaru's Share the Love recipient for 2019, would like to recognize Skagit Subaru once again for their amazing community partnership. Due to the hard work of the Subaru staff, the 2019 Share the Love fundraiser raised an amazing $28,000 for Skagit DVSAS. At a time when interpersonal violence is rising due to the pressures of a pandemic, the funds from Subaru were sorely needed and will greatly assist SDVSAS in continuing to provide support and services to Skagit survivors. Dwayne Lane's Skagit Subaru is a wonderful example of a community business that actively participates in our community and constantly provides support to nonprofits. Since the Share the Love campaign, Subaru has continued to assist SDVSAS in various ways – even sharing local agency fundraisers on their social media platforms! Their partnership is such a valuable part of the SDVSAS agency, and we look forward to working with them towards the goal of ending interpersonal violence in Skagit.
---
Above & Beyond Excellent Customer Care - Sheila C
Thank you Dwayne Lane Dealership and SUBARU! Both the transmission and wheel bearing of our 25-year-old granddaughter's 2013 Subaru Legacy failed during this COVID-19 complicated 2020 year. Her work hours were greatly reduced and she was unable to get through for unemployment support so could not come close to being able to pay for a large repair bill. She made the decision to sell her car for parts and use her bike for transportation. Upon hearing this, with the help and support of Tony and Glen in the Service Dept. and Subaru, she got a call to advise her the repair could be done at a significantly reduced cost that she could afford by extending the warranty. What a blessing! She is back on the road safely. To date we have purchased two new vehicles from Dwayne Lane Subaru. You can be sure that the over-the-top treatment received during this extremely difficult time will never be forgotten, and know that should a new car purchase be in our future, Dwayne Lane is where we will buy. Maureen & Robert Mullen Anacortes, WA
---
Skagit Subaru Share the Love 2019 - Amanda C
Skagit Domestic Violence and Sexual Assault Services is a local nonprofit that supports survivors of domestic violence and sexual assault in Skagit County. The agency helps children and adults heal from the trauma of abuse, teaches parents sound parenting skills and ways they can assist their children's healing and instructs children, youth, and adults in the community how to develop and maintain safe, healthy relationships. SDVSAS also provides a 24/hour hotline for victims of interpersonal violence, supports rape victims at local hospitals, assists victims with protection orders, and operates a domestic violence shelter for victims fleeing their abusive partners. The agency was thrilled to be chosen as the local recipient of Subaru's Share the Love event for 2019 but was even more impressed by the commitment and support demonstrated by Skagit Subaru during the campaign. Subaru staff consistently reached out to Skagit DVSAS to ask how they could contribute to the SDVSAS cause. They provided turkey dinners for SDVSAS shelter families at Thanksgiving, ensuring that shelter clients would be able to celebrate the holiday. Skagit Subaru also specifically asked what the agency's domestic violence shelter's high-need items were, and then donated everything on the list. In total, the campaign raised $28,000 for SDVSAS – a new record for the Skagit Share the Love Campaign! The proceeds will significantly assist in meeting the many needs of victims and their families and in expanding SDVSAS's prevention and education program, which educates community members about the attributes of healthy relationships in order to prevent future violence. Skagit DVSAS executive director, Heidi Roy, stated that the donated funds, "will make a huge difference for SDVSAS clients." The agency is so grateful to have found such a partner as Skagit Subaru, who goes above and beyond the call of duty in their support of community partners.
---
Subaru Shares the Love - Tayler B
Valentine's Day may be over but Dwayne Lane's Skagit Subaru shared the love with Amanda Cronin and Heidi Roy from Skagit Domestic Violence and Sexual Assault Services (SDVAS) with the announcement the agency will receive $28,000 from Dwayne Lane's Skagit Subaru and Subaru of America, Inc. from the Share the Love program. During the event, Subaru donated $250 for each new Subaru sold and SDVAS was Dwayne Lane's Skagit Subaru's local charity partner.
---
Mind-Blowing Service - Rebekah A
I had an absolutely amazing experience yesterday. Not only did the airbag recall repair get accomplished, but the service with which it was done was beyond expectation. I live a long way away from Burlington (Greenbank, on Whidbey Island) and I work full time. I was able to get an appointment that worked within my hours (I only had to leave work 2 hours early), and y'all had a shuttle that was able to help me run errands while I was out in town! Never have I had the opportunity to do something like that at a dealership. Having the shuttle, with the world's friendliest shuttle driver, was by far the best unexpected bonus. Also, upon my return from Costco, I found the waiting room was well laid out with comfortable chairs, coffee, tea and water, should one have need, and a television showing some home improvement show that I had never seen and quite enjoyed (I don't have tv). I was able to read my book until my name was called, much earlier than expected. I was greeted by my Subaru, Felix Felicis, all ready to go, having been freshly washed! I can't tell you enough how impressed I am by the high level of commitment to customer service each one of your team showed. I am only sorry that I live so far away that makes it impractical to utilize the dealership for basic service, but rest assured that I will make an effort to do so, if I am able. Thank you to Shane and the whole service crew for blowing my mind with all of the hard work and care you showed me and my Forester!
---
Feels Like Home - Keely F
I am new to the Burlington area and was a little apprehensive about taking my Subaru to a new dealership for service. I scheduled an appointment online and noticed that they welcome pets! I found that encouraging. Not very many places I go allow me to bring my dog. I showed up the day of my appointment, with my dog in tow. Imagine my surprise at being greeted in the service drive by nice people that genuinely seem to enjoy their jobs! Everyone was so friendly, answered all of my questions, handled all of my concern (for a very reasonable price!) and treated my dog like he was the most special visitor they've had in their store. They gave him pets, treats, took his photo and even gave him a special Outback squeak toy. It's his new favorite and Dwayne Lane's Subaru is MY new favorite! The service was fast, efficient and a great value. The staff at Dwayne Lane's took away any apprehension about choosing a new place to service my Subaru. Thank you to all of the people in the service department for making me and my dog feel at home. We will never go anywhere else! Keely and Akya Burlington, WA
---
We Are What We Leave Behind - Tanya M
September is Subaru Loves Learning month and what better way to kick off a month dedicated to education than hosting our friends, Patrice and Justin La Vigne, from the Leave No Trace Center for Outdoor Ethics? Who knew Americans throw away 2.5 million plastic bottles an HOUR? Did you know that a plastic bottle NEVER biodegrades? Or that fishing line can take up to 600 years to decompose? Or that 9 out of 10 people in the outdoors are uninformed about the impact on the environment they leave behind? Patrice and Justin do. Patrice and Justin are the Subaru Zero Landfill Traveling Trainers. They're very passionate about helping us all learn how to be better stewards of our environment. Not only were they able to help us with a few tips for our dealership's Going Green initiative, they held an Awareness Workshop for young guests from our local Boys and Girls Club and members of a local hiking club. The fun, interactive workshop not only kept everyone interested, but generated lively discussions on ways we can all help to protect the environment. The best part is knowing that each person that attended our event, will take their newfound knowledge and share it with their friends and families, helping to spread the seeds of love and respect for our environment. Our guests took time to sign a pledge to stop using single serve bottles. To make keeping this pledge easier, each of our guests received a Subaru Kleen Kanteen reusable water bottle, backpack made from recycled bottles, a notebook made from recycled apple peels and other fun items made from recycled materials. They also took a moment to write a note of encouragement to a student and to dedicate a book donation to Lucille Umbarger Elementary school. They will be delivered along our book donations in October. The more we love, the more they learn. To learn more about the Leave No Trace Center for Outdoor Ethics, visit https://lnt.org/ today!
---
Fighting Cancer Runs in the Family - Katie J
On July 17, 2019, the Leukemia & Lymphoma Society (LLS) partnered with Dwayne Lane Subaru to bring warmth and comfort to cancer patients at Skagit Valley Hospital. Unbeknownst to them, one of the patients they would meet that day had a very personal relationship to cancer well before her own diagnosis. Sandy Kaufman was receiving treatment in the infusion center when Dwayne Lane Subaru and LLS were at the hospital to give out blankets and arts and crafts kits to adult patients and children of patients battling cancer. That day, she happened to bring in a special series of newspaper clippings from the 1970s and 1980s to share with the cancer center staff. Tom Lane, general manager of Dwayne Lane Subaru, had the opportunity to meet with Sandy and learn about the story the clippings told. They focused on a man named Dr. David E. Smith, who was chairman of Fred Hutchinson Cancer Research Center's Extramural Council. Dr. Smith was a champion for comprehensive community-focused care in Skagit County. He was also Sandy's father. Forty years ago, when a patient in Skagit County received a cancer diagnosis it meant long and lengthy trips for treatment to Seattle, the closest city with cancer care facilities. Dr. Smith and his council colleagues were determined to establish community-based cancer programs in order to shorten the time gap between diagnosis and treatment. To do so they brought a total cancer treatment program to Skagit County's backyard. Because of the work her father spearheaded many years ago, Sandy is now able to get excellent treatment in Skagit County without having to travel more than 60 miles to Seattle. The groundwork laid by Dr. Smith and his colleagues has led to better cancer care in the state of Washington and beyond, benefitting his own daughter Sandy, and thousands of others.Today, most cancer care and treatment can take place in local hospitals like Skagit Valley, but for those patients who must still travel, LLS is there to help by providing travel assistance funds and co-pay assistance to help alleviate the burden of cancer treatment cost. LLS has also invested $30 million in funding to Fred Hutchinson Cancer Research Center over the past 35 years. Today, LLS provides $3.4 million for seven ongoing research projects at the Hutch, right here in Western Washington. Thank you also to Dwayne Lane Subaru for generously providing wonderful gifts of comfort to so many patients at Skagit Valley Hospital for the past four years.Thank you, Sandy, for sharing your amazing story and to your father, Dr. Smith for his incredible work which led to LLS being able to fund more cures for cancer in Seattle. We wish you all the best.
---
Where Love Meets Hope - Sandy's Story - Sandy K
Cancer doesn't discriminate. It doesn't care if you're a child or if you're rich or poor. It doesn't care about your plans or your dreams. It can strike out of the blue, just like it did with Sandy K. Dwayne Lane's Skagit Subaru team members had the pleasure of meeting Sandy while dropping off hand-written messages of hope and warm blankets for patients at the Skagit Regional Health Cancer Care Center, in support of the Leukemia and Lymphoma Society. As it turns out, Sandy's father, a retired general surgeon from Skagit Valley, actually began a pilot program for multi-state tumor registry back in 1972 that laid the foundation for the connection we now have in our valley with the Fred Hutchinson Foundation. Neither Sandy nor her father was prepared for Sandy's diagnosis. When first discovered, Sandy hesitated to share her diagnosis. She didn't want to upset her loved ones until the diagnosis was confirmed. It's personal and she doesn't want her diagnosis to define her. "Everyone has a different experience when facing a diagnosis of cancer", Sandy said. "I choose to focus on joy and humor to keep my spirits high while taking my journey and try to share that attitude with everyone I encounter along the way" " I believe staying positive and active are the best things I can do to assist in my treatment journey". She makes sure she approaches her treatment looking her best and sporting silly socks, not only to lift her spirits but the spirits of the patients around her as well. Sandy said sometimes the simple things, like a warm blanket, a kind word or silly socks can make all the difference in someone's day. "I think it's great that organizations, like Dwayne Lane's Skagit Subaru, get involved because it helps make it possible for more and more research to be done," Sandy said. Patients like Sandy are the reason that Dwayne Lane's Skagit Subaru is proud to be involved with an organization like the Leukemia and Lymphoma Society. Tom Lane, CEO of Dwayne Lane's Skagit Subaru and Dwayne Lane's Auto Family, explained why the dealership is involved with the Subaru Loves to Care program. "We all know someone that's been affected by cancer including members of my own family. The staff at the Skagit Regional Health Cancer Care Center are doing God's work and our donation is small compared to the care and compassion the patients are receiving at this amazing facility," he stated.Thank you to Sandy for sharing her personal story and for the reminder the fight to eliminate cancer continues and it's important to support the cause to help eradicate the disease.
---
Subaru Share the Love - Tayler B
Subaru's Share the Love campaign was Nov. 15, 2018, thru Jan. 2, 2019. For each new vehicle sold during that time frame, Subaru donated $250 to a local charity. For this campaign, Dwayne Lane's Skagit Subaru's hometown charity was Community Action of Skagit County. This campaign collected $14,038 and the money raised will help pay the lease of a new veteran's center opening in Burlington, WA to expand Community Action's services. Community Action of Skagit County's mission is to foster and advocate for self-sufficiency among low-income people in Skagit County. They have been serving the community since 1993 and served over 350 veterans in 2018. They support 18 inter-related core programs that stabilize lives and equip people to move out of poverty and collaborate with the community to create ongoing pathways to prosperity. Community Action is not merely a nonprofit social service agency. While many of its programs meet the basic needs of people struggling to make ends meet, the purpose is to alleviate poverty and help people attain a level of self-sufficiency. The agency has eight impact areas: Family Stability Housing Support and Homeless Prevention Financial Stability Employability Education and Asset Building Healthy Community Food and Nutrition Community Engagement and Volunteerism To learn more about our hometown charity visit: https://www.communityactionskagit.org/
---
Subaru Loves Learning - Lucille Umbarger Elem. - Tayler B
Back in September, Dwayne Lane's Skagit Subaru was one of the many retailers who showed their commitment to education by supporting AAAS - The American Association for the Advancement of Science for the Subaru Loves Learning initiative. Dwayne Lane's Skagit Subaru was able donate over 200 brand new books to Lucille Umbarger Elementary in Skagit County! Mrs. Soiseth-Farmer's Superkids wrote thank you letters and shared how generous and grateful they were for the books and thanked Subaru of America, Inc. for spreading the love of learning. Thank you to everyone who participated in the Subaru Loves Learning initiative and thank you for the thank you letters Superkids! Keep up the learning/reading & Go Wolves!
---
Subaru Loves Learning - Dwayne Lane's S
Dwayne Lane's Skagit Subaru is proud to be one of the many retailers showing commitment to education by supporting AAAS - The American Association for the Advancement of Science for the #SubaruLovesLearning initiative. Dwayne Lane's Skagit Subaru was able to donate over 200 brand new books to Lucille Umbarger Elementary School in Skagit County! Thank you to everyone who supported this campaign. This experience was rewarding for everyone who participated by helping the youth & community one story at a time!
---
Dwayne Lane's Loves to Care for Cancer Patients - Katie J
On Tuesday July 10th, Dwayne Lane's Subaru partnered with the Leukemia & Lymphoma Society to deliver blankets and arts and crafts kits to cancer patients and kids experiencing cancer at the Skagit Valley Hospital. The Leukemia & Lymphoma Society exists to find cures for cancer and improve the quality of life of cancer patients and their families. These blankets bring comfort during cancer treatment which is a very uncomfortable process. Just ask Donna Hughes (pictured fourth from left) whose husband battled cancer last year and greatly appreciated his blanket each time he went for treatment after receiving it. Skagit Valley Hospital greatly appreciates Dwayne Lane's Subaru for their generosity and in-depth involvement with the local Skagit Valley community. Thank you again for your care and compassion for the patients at Skagit Valley Hospital and thank you for helping the Leukemia & Lymphoma Society fund life-saving research to beat cancer.
---
Sharing The Love with the Friendship House - Dwayne Lane's S
Dwayne Lane's Skagit Subaru proudly participates in Subaru's Share the Love program an annual giving program that has donated millions to charities since its inception. For every new Subaru purchased from November 16, 2017 through January 2, 2018 during Subaru's 50th anniversary celebration, Subaru donated $250 to the customer's charity of choice from either a hometown charity or four national charities including - the National Park Foundation, Meals On Wheels, Make-A-Wish, and ASPCA. Dwayne Lane's Skagit Subaru selected Friendship House in Mount Vernon as the local hometown charity. Friendship House is recognized as a gateway for people struggling with homelessness to reenter society. Its unique service model places special emphasis on transforming a person's crisis situation into an opportunity for empowerment and self-sufficiency. The mission of Friendship House is to reflect the heart of God by feeding, sheltering, clothing and healing those in need. Friendship House is a leader in providing comprehensive services and programs for people who are homeless by empowering them towards self-sufficiency Our core values are compassion, respect, joy and acceptance, provided in a safe environment. "Through the generosity of our customers we were excited to present a check to Friendship House for $20, 378", commented Tom Lane, president of Dwayne Lane's Skagit Subaru. He said it was an honor to partner with a great organization that provides such valuable services for our community. Tina Tate, executive director at Friendship House said she was very excited when she found out that Dwayne Lane's Skagit Subaru had picked Friendship House as the charity for the Share the Love event. "I had no idea how much we would get and was over the moon to receive as much as we did" Tate commented. Tate said the money will help Friendship House in many ways including some much needed facility repairs on four 100 year old houses and an older house in Burlington that is a transitional house. She said the money will also assist as services are expanded to address the growing need. Tate went on to say "Thank you from the bottom of our hearts for your generosity!"
---
Dwayne Lane's Skagit Subaru Cares about Patients - Anne G
On Wednesday morning, July 12th, members of the Skagit Valley Hospital Foundation, its cancer center and a team of caring employees from Dwayne Lane's Skagit Subaru convened at the hospital to present 80 warm and cozy navy blue blankets and 20 craft kits for cancer patients and the children who may be visiting them during their stay. Linda Frizell, Executive Director of the Skagit Valley Hospital Foundation said, "We so appreciate this kind gesture – and we know the patients will as well!" Families all across Washington state, including those close to home in Skagit County, are affected by cancer on a daily basis. Partnering with the Leukemia & Lymphoma Society, whose mission is to cure leukemia, lymphoma, Hodgkin's disease and myeloma and to improve the quality of life for patients and their families, gives Dwayne Lane's Skagit Subaru a direct way to help patients in treatment for their cancer while supporting the ultimate goal of finding cures for blood cancers. Pictured L to R: Michael Credle (Subaru), Dominique Dailly and Monica Baca of Skagit Valley Hospital, Tom Lane (owner of Dwayne Lane's Skagit Subaru), Linda Frizzell, Executive Director of the Skagit Valley Hospital Foundation, Sheila Countryman-Bean (Subaru), Peter Wold, MSW, Skagit Valley Hospital, and Anne Gillingham, Executive Director for the Leukemia & Lymphoma Society of Washington and Alaska.
---
Subaru and NWF Loves the Earth - Tamara S
We really appreciate all the things you've donated to West View Elementary School . It has made learning really fun and the kids have had a great time!
---
Proud Sponsor of World Record Run - Cora L
Dwayne Lane's Skagit Subaru was proud to sponsor Ali Afshar and his world record setting Subaru BRZ. He set the 1/4 mile world record time of 7.22 seconds at the Protect the Harvest NHRA Northwest Nationals in August 2016. For high quality video visit: https://youtu.be/5sCz1dRtJQc
---